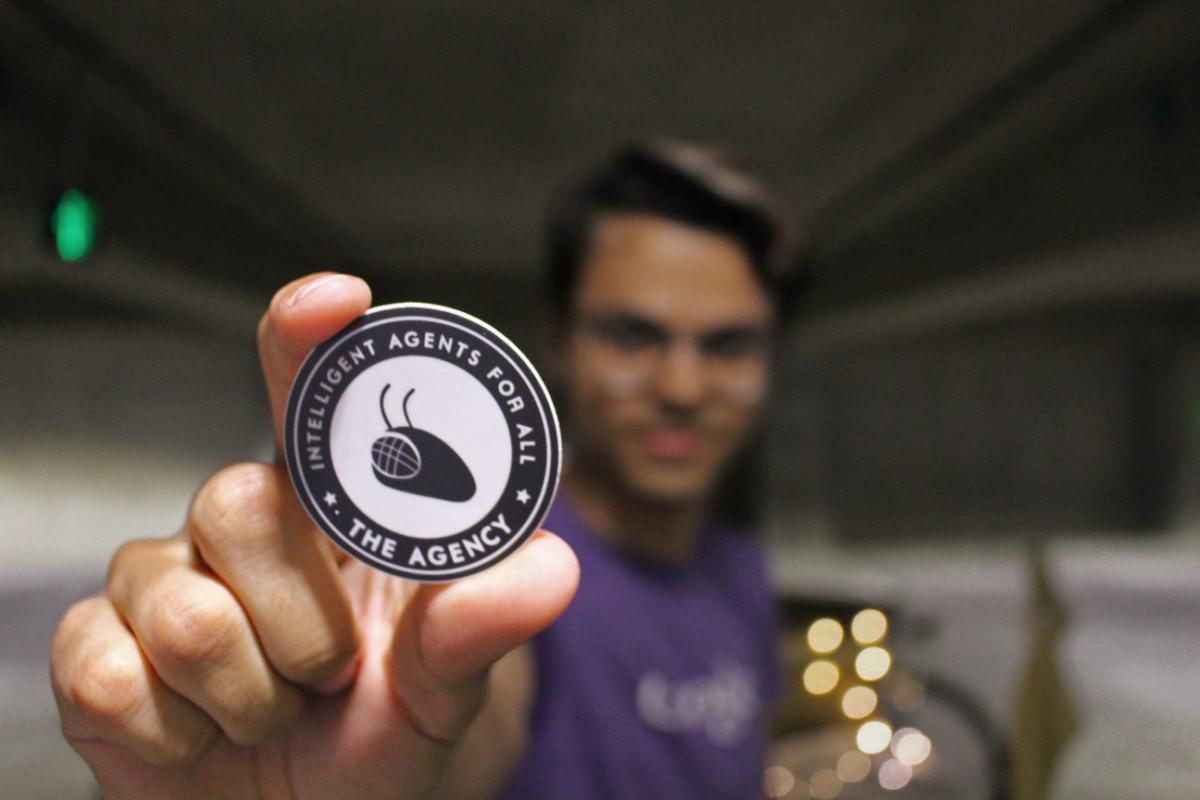 One day in 2013, Jesse Rosalia woke up and decided that he wanted to build a self-driving car. He enlisted a few friends to help him with his mission and they soon became an official Georgia Tech club known as The Agency. It has been five years since the start of this journey, and the club has continued to grow beyond Rosalia's initial dream.
"When I say that this club was founded on the sole premise of building an autonomous car and that's it, I'm not kidding. I was just a guy in college who was interested in the possibilities of artificial intelligence and robotics and thought creating a club for people with similar interests to work on this project would be cool," Rosalia said of founding the club.
The Agency soon partnered with Georgia Tech's competitive robotics club, RoboJackets, to work on a self-driving car. The students were able to pool their resources and knowledge from robotics, machine learning, and artificial intelligence to eventually build software that would allow a small, remote-controlled car to drive itself. The car was ultimately dubbed Buzzmobile and successfully drove itself in the 2014 Ramblin' Reck Homecoming Parade.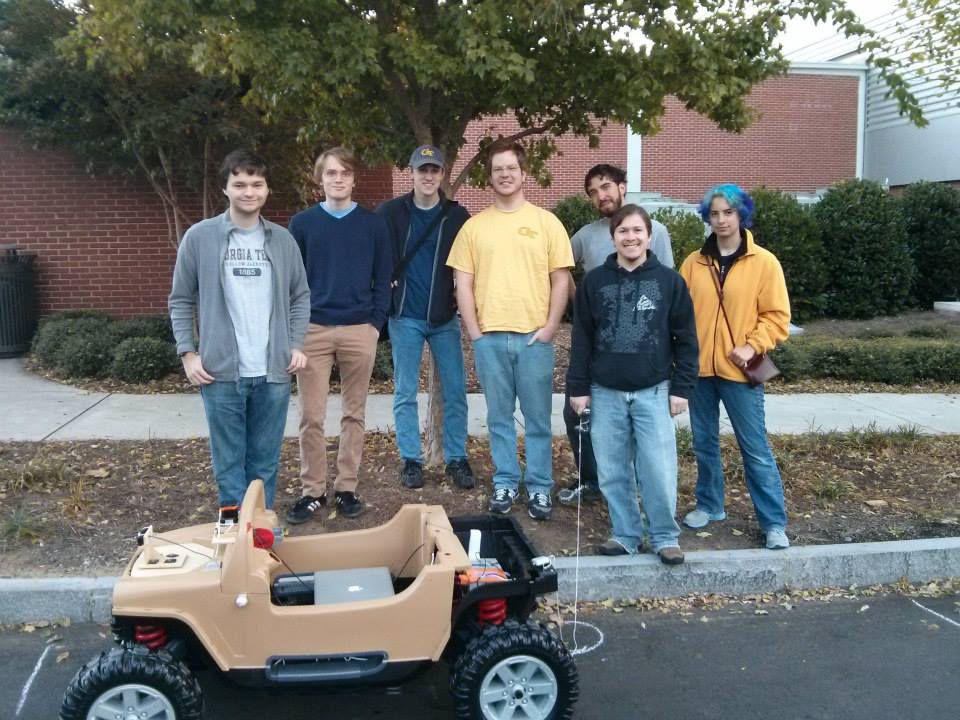 Club members Albert Morlan, Bill Dorn, Thomas Shields, Johnathan Suit, Alex Linton, Jesse Rosalia, and Rachel Rosalia (Clark) proudly show off Buzzmobile.
One of Rosalia's favorite memories is when they needed to test their software and gather more data using computer vision. The members decided Ferst Drive, a main road that winds through Georgia Tech's campus, would be a great road for a test drive.
However, the self-driving car couldn't take to the road legally, so the Agency contacted the Georgia Tech Police Department who were happy to help the students. They picked a time that the road would be less busy but still offer data points like shade and road noise.
"The car was parked in a campus parking deck and we honestly weren't sure it weighed enough to open the gate to get out of the parking deck. Everyone started cheering when the gate flew up and it was a really fun moment for the club. Cars honked at us the whole time, but we didn't care," said Rosalia.
Since this first project, the club does work on autonomous vehicles from time to time, but they are not its main focus anymore. Club members gather on Tuesdays to work on projects and meet Wednesdays at 6:30 p.m. for a lecture, which is presented by a guest speaker or the club's internal operations officer.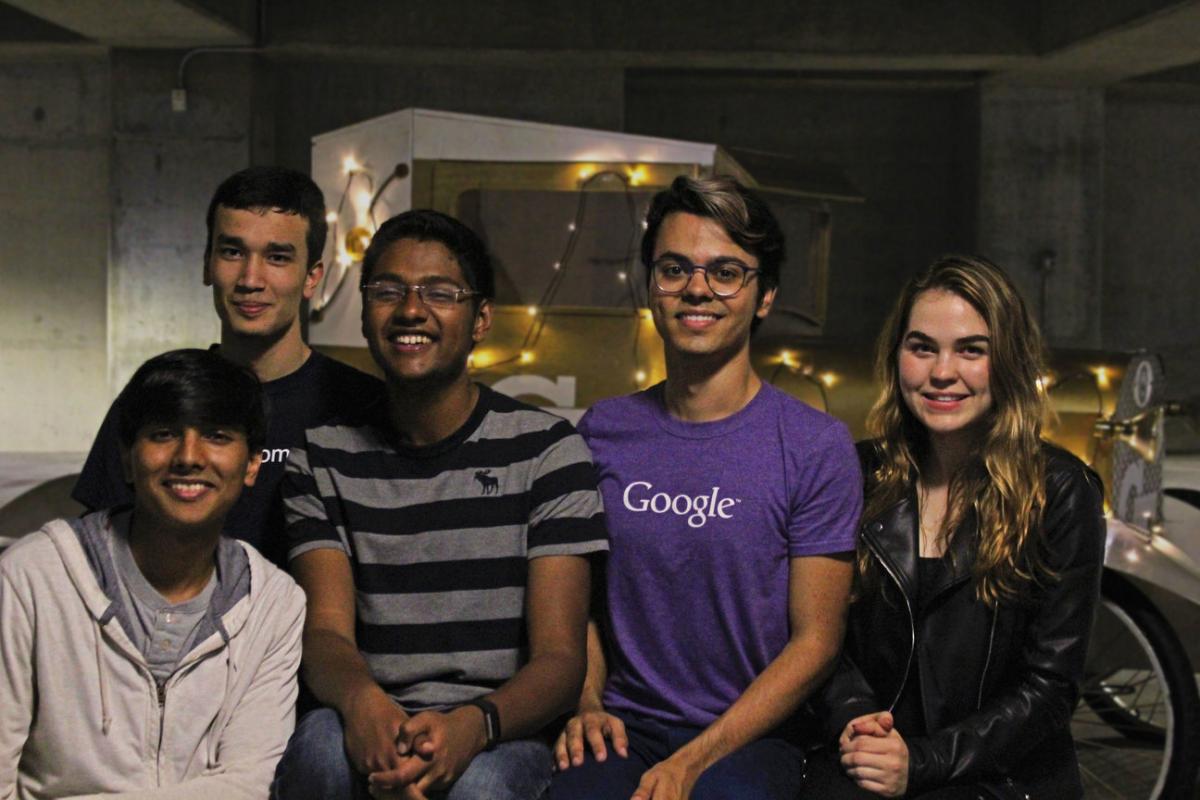 The 2017 Agency leadership team. Pictured (L to R): Diptodip Deb, Marc Marone, Sahit Chintalapudi, Raphael Gontijo Lopes, Valentine Wilson)
Marc Marone, the current internal operations officer, has loved his time in the club. Although being responsible for the majority of the content for the club meetings is no easy task, he said.
"I usually pick a topic that the group is interested in and read a bunch of papers about it. I present those papers and my takeaways during our meetings and then we discuss it. It's made me way better at presentations, reading papers, and picking the right paper. Nothing is more humbling than learning about a complex topic you know little about and then presenting it to your peers," said Marone.
Marone, who will begin working at Microsoft Research after graduating this month, is one of many club members who has gone on to do impressive work after their time with The Agency.
Alumni include current Google employees Joshua Morton and Raphael Gontigo Lopes and Facebook Technical Program Manager, Jasmine Lawrence, who was listed on Forbes 30 under 30 Games list in 2017.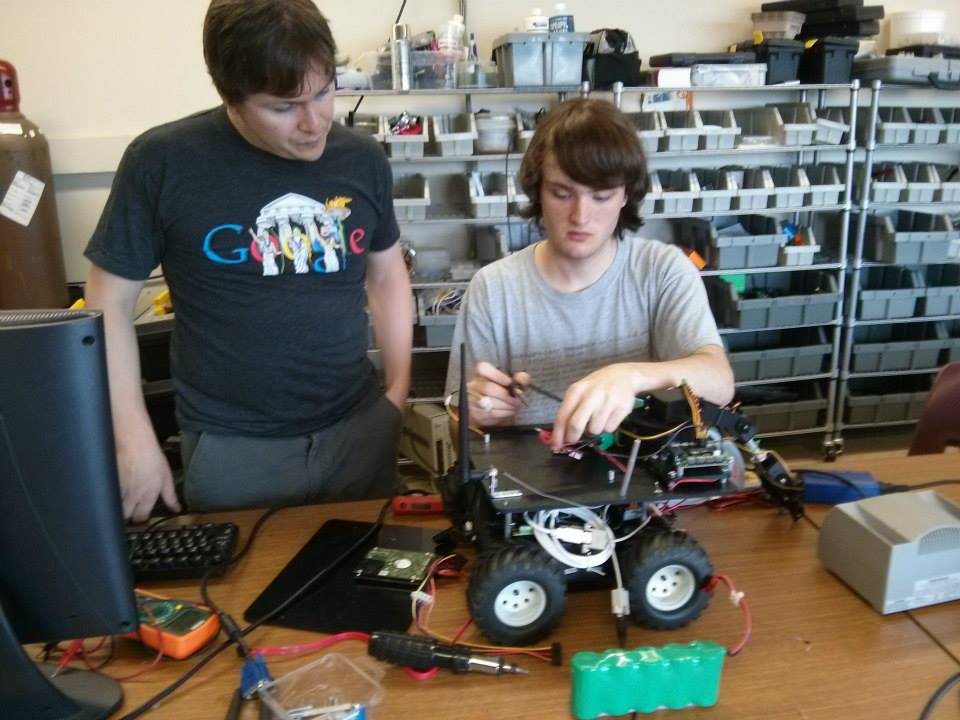 The Agency co-founder, Jesse Rosalia (left), works with Nick Johnson on the robot in 2014.
For Lopes, The Agency was more than a club, it was his community. A native of Brazil, Lopes knew no one when he arrived at Georgia Tech in 2014. He was passionate about computer intelligence and desperate to find others who felt the same way. He stumbled upon The Agency and calls it "his best decision in college."
"The friends I made through The Agency are lifelong friends. Even though I now live in San Francisco, I still talk to a lot of them on a regular basis and when work brought me to Atlanta, they were the people I stayed with," said Lopes.
Rosalia agrees. He met his wife, fellow founding member Rachel Rosalia (Clark), through the club.
When asked what his proudest accomplishment with the club is, Rosalia said, "The fact that I am getting to talk about the club right now means that it has endured and has become some sort of an institution. It makes me really happy and proud to know that people are finding friends and pursuing their interests together through a club that I put together to achieve an entirely different goal."
In the next five years, Rosalia hopes that the club continues to grow people's knowledge and interest in machine learning and artificial intelligence.
"If they happen to build another car, I will be out there cheering them on."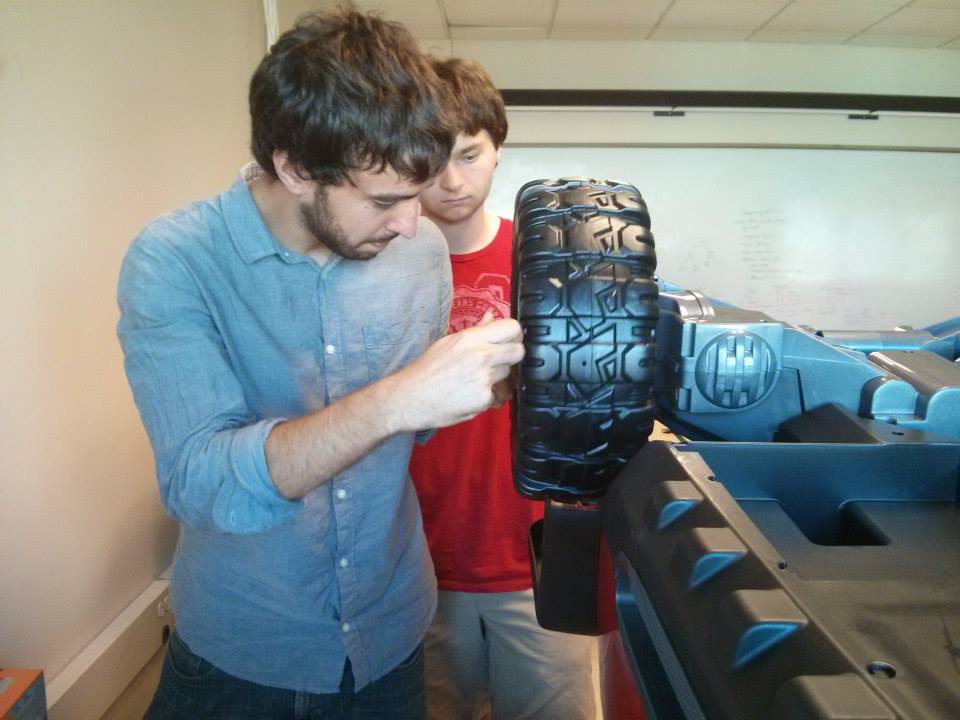 Club members Alex Linton (CS '14) and Albert Morlan (CS '16) worked together on the remote control power wheels car which would later be known as Buzzmobile. Contact: Allie McFadden Communications Officer, Machine Learning Center at Georgia Tech allie.mcfadden@cc.gatech.edu